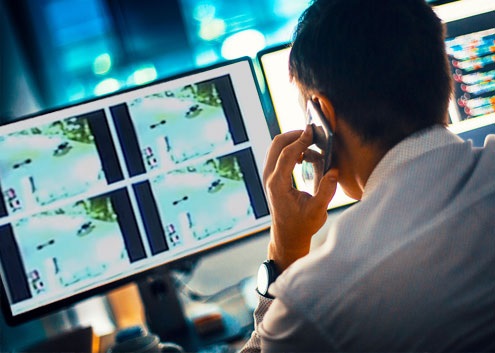 How to Recover CCTV Footage?
CCTV cameras are one of the most important and useful devices. Tech advancements over the past few decades have given us this boon. CCTV cameras are one of the most reliable devices in the field of security. This is true for both, the corporate sector as well as for personal usage. The cameras take continuous video feeds of their environment. You can watch them in real-time. Security personnel can even store them and watch later. However, CCTV deleted data poses a problem. The problem arises because CCTV storage space is limited. Therefore, you need to delete old data. However, this old data (video feed) may become useful if someone detects a new crime. The age-old question is how to retrieve CCTV footage. Security personnel worldwide wonder how to recover deleted files from CCTV.
Here are some useful ways through which you could recover deleted CCTV footage:
Check Recycle Bin
Windows has a useful feature wherein the files that you delete are not really deleted. The Recycle Bin stores them for a while. This is so that you can recover any files that you may have deleted by mistake and need at a later point. So, the first step you should take is to check your Recycle Bin. See if the video footage you are looking for is present in it. If it is, you can press the Restore button. The file would go back to where it initially was before you deleted it. You can then access this file just as you would usually access any other file. However, there is one important thing to note. The normal "delete" function behaves in the way described above. However, using the "shift delete" method causes different results. By holding down the shift key while deleting, the computer ignores the Recycle Bin. This results in the file actually getting deleted. This is often the easiest solution when people wonder how to recover data from CCTV.
Get back the Footage from Backups
Most CCTV cameras come with the option of storing CCTV footage in a multitude of ways. This could be DVRs, NVRs, FTP Servers, SD Cards, Cloud Storage or any other mechanism for storage. You can take advantage of these facilities. Set them up to back up the CCTV footage in multiple locations and methods. This is so that even in case one of the facilities fail, the others would be present. This would enable you to access the CCTV footage you require without any hitches along the way.
A special mention has to be made to FTP servers and Cloud Storage. These are new-age storage facilities. They are much more secure and reliable than normal storage drives. If your firm has the bandwidth to transfer this volume of media to FTP servers or even Cloud Servers, you should make use of these facilities. This would ensure that the CCTV footage is always present in a secure location. The footage would be free from damage or deletion.
Use Stellar Windows Data Recovery Software
There are a lot of cases where it may not be possible to recover CCTV footage manually. This is usually because the data may have been deleted without any backup mechanism in place. You may not have enabled (or may even have manually disabled) the relevant options for Windows to keep the files intact. Fret not because there is hope. We at Stellar pride ourselves on being the industry leaders in the field of data recovery software and facilities.
You can use Stellar Data Windows Recovery software in order to try and attempt to get back the deleted CCTV footage. All you need to do is:
Download and install the Stellar Windows Data Recovery software.

Scan for the relevant files using location parameters.
Then, sit back and wait for a while. If the system finds the file, restore it into a location that is convenient to you. It is a user-friendly software that has helped millions of people worldwide. It has been used for corporate purposes and for home purposes. You can use Stellar Windows Data Recovery Software for any type of missing data. The use is by no means restricted to just CCTV footage or videos.
Avail Help from Professional Data Recovery Experts
You can solve the vast majority of cases of deletion of CCTV footage by the above methods. However, there are still many cases where even our software is not able to recover the CCTV footage you desire. Don't worry, because Stellar has a large number of experts in the field of CCTV data recovery . They have decades of experience under their collective belts. They would be able to help you recover your CCTV footage in an easy and convenient manner. Best of all, you can rest at ease. This is because you would know that the professionals are on the job. If the CCTV footage is recoverable at all, by any method worldwide, our expert data recovery experts would recover it for sure
Above are some of the ways in which you could recover deleted CCTV footage.
Getting your data back is usually possible. Don't worry if you CCTV footage is deleted for some reason. However, take care to not make the mistakes below. This would increase the chances of you recovering your CCTV footage.
If the system detects an error on a drive, do not run NVRs and DVRs until the system fixes it.

If the CCTV videos are having errors or damaged, do not format the hard drives containing it.

Once the footage has been deleted, do not delete or add any file into the particular drive. The data may get overwritten, making data recovery impossible.
Stellar is one of the pioneers in data recovery services with a presence in 18+ locations across the globe. Starting out its operations in 1993 (25 years ago), it has served more than 3 million customers with 100% secure and confidential data recovery services. It has a strong portfolio of Class 100 clean rooms, in-house developed advanced technologies and software and a team of 100+ R & D engineers to solve even the complicated data problems within a stipulated time. Recognized and awarded for outstanding services in the IT industry, Stellar has become the first and foremost choice of various Fortune 500 companies